04 Jun

IHP Workshop & Tutorial

September 17-19, Frankfurt (Oder), Germany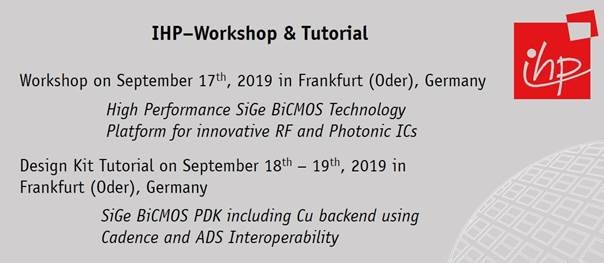 IHP's 18th Workshop "High Performance SiGe BiCMOS Technology Platform for innovative RF and Photonic ICs"
The Workshop delivers firsthand information about IHP's technologies, services and integrated circuits. IHP`s offerings are very suitable for demanding applications such as wireless and broadband communication, medical technology, aerospace, mobility, wireless security, and industrial automation.
Design Kit Tutorial on SiGe BiCMOS PDK including Cu backend using Cadence and ADS Interoperability
The target audience for the tutorial is silicon designers and students, who are accustomed to a Cadence or ADS based design flow. This is a hands-on tutorial and  the audience gets the opportunity to practice IC design in a real Cadence and ADS design environment with dedicated design examples and design flows.
Discover more