CORNERSTONE and EUROPRACTICE are launching a design contest
for first-time users of CORNERSTONE's Silicon-Photonics platforms.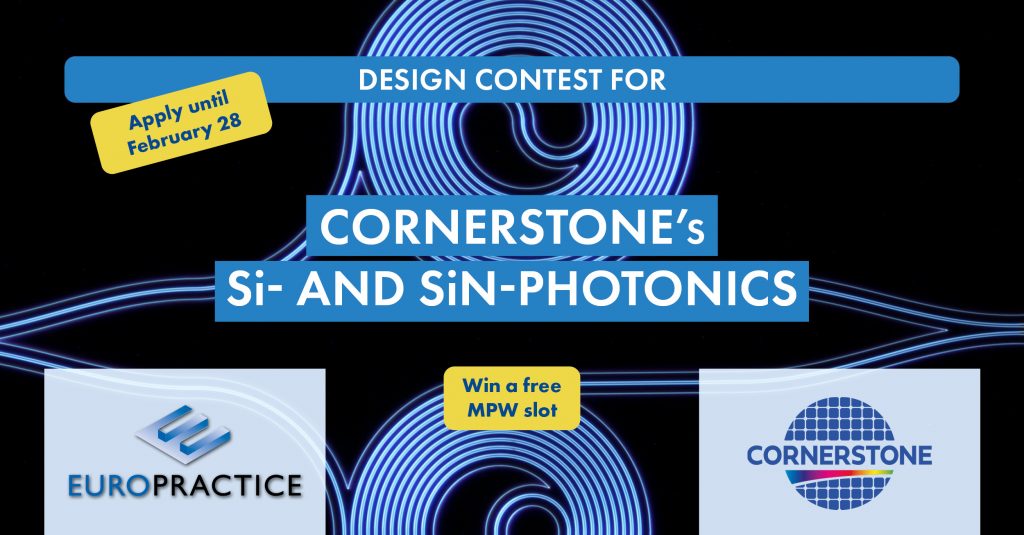 Applicants are free to choose between five CORENSTONE's  photonics platforms:
Si-Photonics 220nm SOI passives
Si-Photonics 340nm SOI passives
Si-Photonics 500nm SOI passives
SiN-Photonics
Suspended-Si
CORNERSTONE technology is an open source, license free rapid prototyping platform that offers unparalleled flexibility in its MPW runs, with the option to customize certain steps.
The passive SOI calls include 2/3 etch depths and optional TiN based thermal phase shifters. The SiN calls offer a single etch process and optional TiN based thermal phase shifters, and the suspended-Si calls are based on the 500 nm SOI platform.
CORNERSTONE utilizes DUV lithography, and offers the unique capability to pattern certain layers using high resolution e-beam lithography. Such a platform allows for much more flexible control over your designs.
The winner will get a free prototype fabrication (excluding packaging) of one standard block size design on your choice of CORNERSTONE's technology platform in 2022 – representing a value of over 14,000 €.
Who can apply?
Start-up, SMEs, and researchers from academic or research institutes that have never prototyped with their choice of technology platform at CORNESTONE before.
How to apply?

Download and fill in this short Note of Interest application template, and submit it via email to Europractice.Gateway@Tyndall.ie
Multiple applications can be submitted, but a maximum of one design per organisation can be approved.
When are the deadlines?

Short note of interest (application template) to be submitted by 28 February 2022.
Final design to be submitted by 30 September 2022, or two weeks before your choice of MPW fabrication run, which ever is first.
Proposals will be evaluated by an independent committee and the winners will be informed by 31 March 2022.
What are the evaluation criteria?
Novelty of the application of Si Photonics 340nm technology
Proposed design methodology
Clarity of application and credibility of case
How this will lead to further research and/or funding applications
We are looking forward to your applications!