LEUVEN (Belgium), July 4, 2023 — EUROPRACTICE Multi-Project Wafer (MPW) services will now offer flexible integrated circuit fabrication from Pragmatic Semiconductor, headquartered in Cambridge, UK. Within the EUROPRACTICE consortium, imec will be the partner that provides customers with access to Pragmatic's technologies and technical support.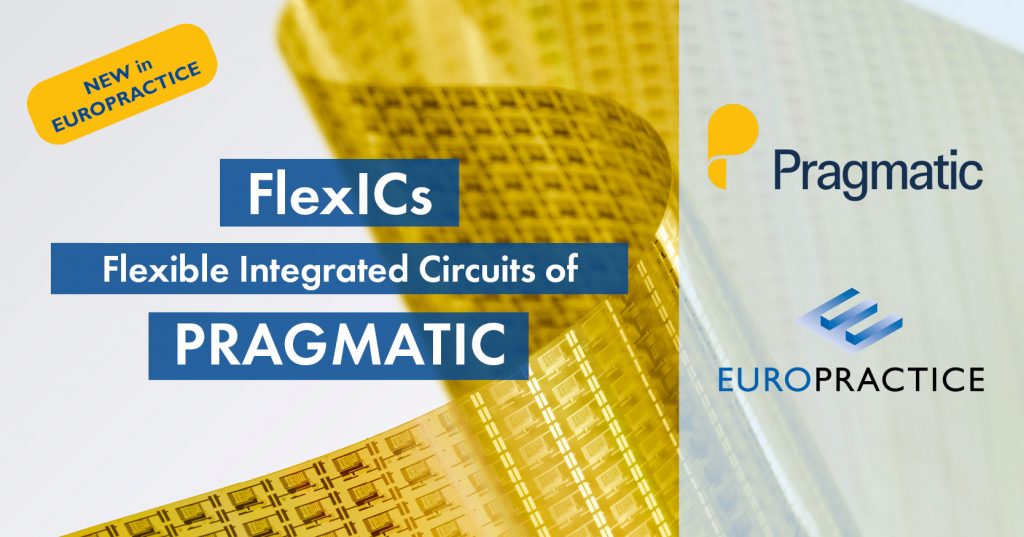 Pragmatic uses thin-film transistor (TFT) technology combined with conventional semiconductor processing equipment to offer flexible integrated circuits (FlexICs) with dramatically reduced fabrication times.
Dr Francesca Bottacchi, Pragmatic's Account Manager, Foundry, comments:
"We are delighted to offer our FlexIC foundry services to EUROPRACTICE customers. Our rapid cycle time takes designs from tape-out to delivery in around six weeks, empowering customers to drastically reduce product development time, perform early end-user testing, and accelerate time to market. The physical flexibility of our IC also enables novel use cases that are simply not possible with conventional silicon chips."
Dr Maria Martinez Valado, Program Manager at imec, explains:
"At EUROPRACTICE, we have always been committed to supporting the innovation efforts of European academia and SMEs, and we are glad to continue this mission by incorporating Pragmatic's FlexIC technology into our technology portfolio. This further strengthens our ability to provide our customers access to cutting-edge technologies, and reinforces our dedication to fostering innovation in Europe."
"We are excited to partner with Pragmatic and to offer their unique technology to our customers, and we look forward to the possibilities it will bring," elaborates Adil Masood, Project Leader at imec.

About Pragmatic
Pragmatic is revolutionising semiconductor fabrication with ultra-low-cost, flexible integrated circuit (FlexIC) technology that makes it quick and easy to embed intelligence almost anywhere. FlexICs are thinner than a human hair and, invisibly embedded in objects, enable novel solutions that are simply not possible with conventional electronics. With rapid cycle times that substantially accelerate time to market, our foundry provides high-volume fabrication at a fraction of the cost of silicon, with a significantly lower environmental impact.

About EUROPRACTICE
EUROPRACTICE is a consortium of research organisations that provides European industry and academia with a platform to develop electronic circuits and systems. For nearly 30 years, the consortium has offered affordable access to prototyping and volume production services in a wide range of technologies, including ASICs, MEMS, Photonics and more. For future generations of engineers, EUROPRACTICE has provided design tools and a broad training offer ensuring the growing digital economy in Europe. The consortium consists of five partners, namely imec (Belgium), UKRI-STFC (UK), Fraunhofer IIS (Germany), CIME-P from Grenoble INP (France) and Tyndall National Institute (Ireland). Over the years, EUROPRACTICE has been supported by the European Commission, which allowed expansion into new markets and continuation of the high-quality service to more than 600 academic institutions and over 300 SMEs.

About imec
Imec is a world-leading research and innovation center in nanoelectronics and digital technologies. Imec leverages its state-of-the-art R&D infrastructure and its team of more than 5,500 employees and top researchers, for R&D in advanced semiconductor and system scaling, silicon photonics, artificial intelligence, beyond 5G communications and sensing technologies, and in application domains such as health and life sciences, mobility, industry 4.0, agrofood, smart cities, sustainable energy, education, … Imec unites world-industry leaders across the semiconductor value chain, Flanders-based and international tech, pharma, medical and ICT companies, start-ups, and academia and knowledge centers. Imec is headquartered in Leuven (Belgium), and has research sites across Belgium, in the Netherlands, and representation in 3 continents. In 2021, imec's revenue (P&L) totaled 732 million euro.