ERLANGEN (Germany), July 13, 2023 — Fraunhofer IIS expands the EUROPRACTICE portfolio by offering access to Gallium Nitride and Gallium Arsenide processes fabricated by UMS, the European leader in RF and microwave MMIC products and foundry services.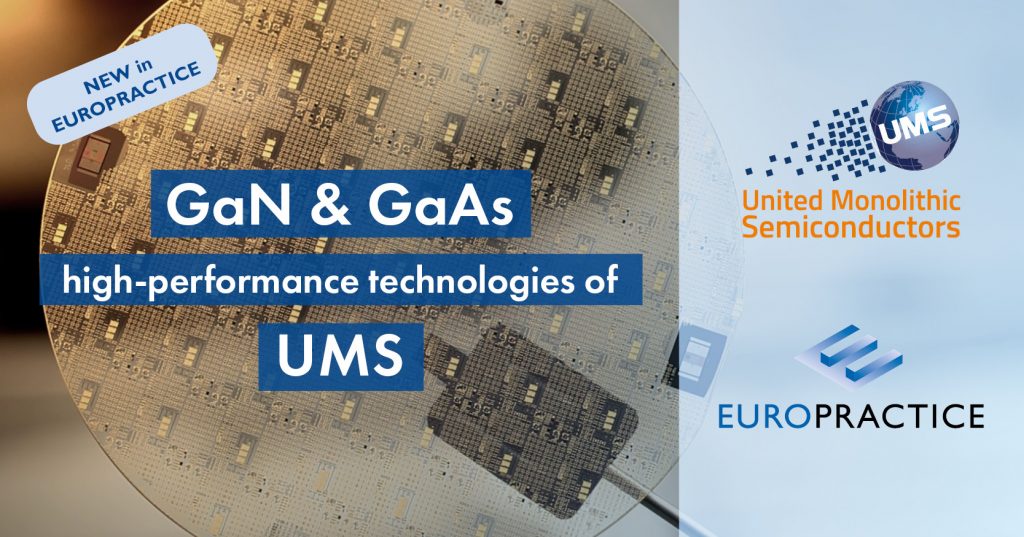 EUROPRACTICE customers now have access to 0.25μm GaN high-electron-mobility-transistor (HEMT), 0.15 μm GaN HEMT and 0.1μm GaAs Low Noise Pseudo Morphic HEMT technologies by UMS. These processes, all space evaluated, are now offered through EUROPRACTICE MPW runs with Fraunhofer IIS functioning as a service center for the EUROPRACTICE customers interested in it:
GH25 is 0.25 μm HEMT GaN-on-SiC substrate technology for very high-power application. With GH25 it is possible to design GaN HPAs, LNAs, switches, diodes, MMICs, power bars and multi-function components.
GH15 is a 0.15 μm HEMT GaN-on-SiC substrate technology for very high-power application up to 40 GHz, but also suitable for LNAs, switches and multi-function components.
PH10 PHEMT GaAs process is optimized for the production of low noise, wideband and medium power amplifier MMICs. With PH10 it is possible to design LNAs, variable Gain and Medium Power Amplifiers, mixers and multi-functions TX &RX MMICs, automotive radars, Imaging sensors, Optical fibre communication and Instrumentations.
Thomas Drischel, EUROPRACTICE Program Manager at Fraunhofer IIS, and board member of EUROPRACTICE mentioned:
"For over 25 years EUROPRACTICE has provided academia and SMEs with affordable access to prototyping, advanced packaging and volume production services of renowned microelectronic and photonic foundries located worldwide. We are happy to announce that from now on, EUROPRACTICE customers will also have access to the high-performance technologies of UMS."
Valeria Di Giacomo-Brunel, Foundry Services Manager at UMS added:
"We are pleased to partner with Fraunhofer IIS to offer our technology services to EUROPRACTICE customers. This will allow a new, larger customer base to appreciate our technology quality and performances.  They will be able to create their own rf-product solutions, power amplifiers, mixed signal functions, very low noise amplifiers, and complete transceiver systems, from DC to 100GHz, based on GaAs and GaN technologies"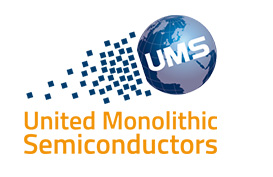 About United Monolithic Semiconductors (UMS)
United Monolithic Semiconductors (UMS) is the European leader in offering RF MMIC products and foundry services for specialized markets, including Defence and Space, telecommunications, automotive radar and industrial  sensors, with major locations in both France and Germany.
UMS in-house GaAs and GaN processes provide the technology platform to allow the design of our leading edge products and form the basis of our foundry service offer to external design centers.
Continuous and customer led innovation is at the heart of UMS' continuing success. UMS has strong relationships with many of the major R&D centers and Universities throughout Europe, actively participating in many advanced and collaborative developments to create the technologies and products needed for future markets.
www.ums-rf.com

About EUROPRACTICE
EUROPRACTICE is a consortium of research organisations that provides European industry and academia with a platform to develop electronic circuits and systems. For nearly 30 years, the consortium has offered affordable access to prototyping and volume production services in a wide range of technologies, including ASICs, MEMS, Photonics and more. For future generations of engineers, EUROPRACTICE has provided design tools and a broad training offer ensuring the growing digital economy in Europe. The consortium consists of five partners, namely imec (Belgium), UKRI-STFC (UK), Fraunhofer IIS (Germany), CIME-P from Grenoble INP (France) and Tyndall National Institute (Ireland). Over the years, EUROPRACTICE has been supported by the European Commission, which allowed expansion into new markets and continuation of the high-quality service to more than 600 academic institutions and over 300 SMEs.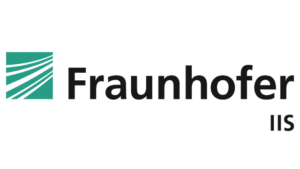 About Fraunhofer IIS
The Fraunhofer Institute for Integrated Circuits IIS, headquartered in Erlangen, Germany, conducts world-class research on microelectronic and IT system solutions and services. Today, it is the largest institute of the Fraunhofer-Gesellschaft.
With more than 30 years of experience in professional IC-Design, Fraunhofer IIS is development partner for customized solutions. Focus is on mixed-signal ASIC and SoC design for industrial, communication, consumer and automotive applications as well as on integrated solutions for increasingly complex electronic systems.
Fraunhofer IIS is partner of ams-OSRAM, Fraunhofer IISB, GLOBALFOUNDRIES, IHP, UMS and X-Fab providing turnkey solutions for technologies from CMOS, HV-CMOS, SiGe, SiC, GaN, GaAs down to 22 FDSOI and 12 nm FinFET.  
www.iis.fraunhofer.de